<--back to concert schedule
-->Media from this concert
Friday, October 3 @ Slought Foundation: Polwechsel and Will Guthrie

Slought Foundation
, 4017 Walnut Street, Philadelphia, PA (
directions
), $10, 8pm.
Presented with Soundfield and Bowerbird.


An evening of fascinating approaches to percussion. Polwechsel, the long-running Austrian group, has been at the forefront of new approaches to both instruments and sound arrangement since their landmark 1995 debut. After several lineup changes, the group has now coalesced around two of the world's most fascinating drummers: London phenom Burkhard Beins and Martin Brandlmayr, best known for his contributions to the seminal electronic/noise/post-rock/? group Radian. Carefully layering sounds using precise starts and stops, Polwechsel lets us hear the grit and friction of contrast, deceptively masked behind a "cool" exterior.

Somehow, Will Guthrie has discovered the perfect intersection between noise, electro-acoustic improvisation, musique concrete, and his own background as a jazz drummer. Using an array of cheap microphones and radios to amplify and augment his simple percussion setup, Guthrie evokes a world where all your home electronics might come alive and then have the good taste to just sound

right

. A busy, shifting, textured, yes-maybe-even-with-a-bit-of-"swing", one man band.
Polwechsel
(jump to bio
)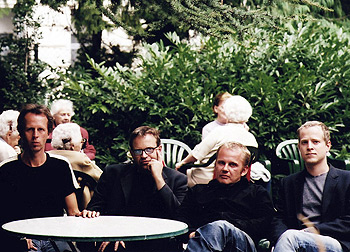 "With "Archives of the North" (Hat Hut), its third album, the group has reached a state of refined grace. It now has the drummers Burkhard Beins and Martin Brandlmayr, the saxophonist John Butcher, the bassist Werner Dafeldecker, and Michael Moser on cello and computer. Working together, they make the most beautiful bowings and chimings and scrapings, blending them so that it all becomes one fluid motion. It's lovely music that some people might not call music at all.
-Ben Ratliff, the New York Times

Polwechsel - "Site and Setting"

Polwechsel - "Magnetic North"


http://www.polwechsel.com/

---
Will Guthrie
(jump to bio
)


"There's almost ceaseless activity, constantly churning, as one has the impression of peering into some alien hive bubbling with industry. He has a marvelous ability to coalesce a wealth of seemingly casual sounds, events that have no apparent relationship, into an entirely convincing, cohesive whole."
- Brian Olewnick, Bagatellen

Will Guthrie - "Eleven"

Matt Earle / Will Guthrie / Adam Sussmann - "Bridges 3" excerpt

Hear more at myspace.

Read an article about Will.

See a video of Will Guthrie, Ferran Fages, and Jean-Philippe Gross (their music starts at 1:20).

http://www.antboymusic.com/

---
Bios:

Of all music, it was difficult to foresee that free improvisation, traditionally the music of abundance––indeed even of excess––could become the main setting for reductive strategies. After all, historical ensembles such as Gruppo di Improvvisazione Nuova Consonanza and AMM, both products of the sixties' (counter) culture, had already demonstrated the aesthetic fruitfulness of reductive approaches to real-time music, decades earlier. But they remained secondary voices in the concerto of improvisational emancipation, drowned out by high-powered, vociferous free jazz. In the nineties, however, two things came together in improvised music: a rediscovery of those ignored voices; and an intense, renewed reception of contemporary composed music's soundworld—in particular, the reductive approaches of Morton Feldman and Giacinto Scelsi, but also the rich noise-world of Helmut Lachenmann's scores.

Founded in 1993 in Vienna,

Polwechsel

was one of the first 'improvisation in a new reductionist spirit' ensembles, and was certainly one of the most closely-followed. Especially since, over the years, the quartet not only successfully managed to create a bracket for new improvised and composed music, but also to integrate newer forms of electronic music, particularly those which had been developed in the Vienna club scene by musicians such as Christian Fennesz or Christof Kurzmann (with whom the Polwechsel protagonists quickly entered into creative collaboration).



It shouldn't be forgotten that one of the participants in the first Polwechsel «pressing» was possibly the most radical reductionist of contemporary music: Radu Malfatti (his spot was later occupied by London saxophonist John Butcher).





Polwechsel is an ensemble that is usually characterized as an improv band—a classification that probably reflects the socio-musical background of most of its members, more than the music. Just about anyone would find the Polwechsel CDs' composer credits perplexing: only two pieces on the CDs to date are identified as collective efforts, the remainder are attributed to individual Polwechsel musicians. And when one delves into the music itself, its austerity and precision makes its genesis in free improvised music seem unlikely—while at the same time, it is evident that the Pol-wechsel-Komponisten [trsl. 'Pole-switching-composers'] integrate the idiosyncratic playing of their experienced improvising colleagues into their compositional methodology. This methodology simultaneously reveals a reductive aesthetic, and made Polwechsel one of the most influential inter-national ensembles of the end of the last century: that such inveterate improvisers knew how to circumvent the abundance of their vocabularies so sparingly and precisely, and how to insert their personal sounds in a disciplined way, without self-indulgence, into a group context, was truly a revelation for many listeners and fellow-musicians.





Despite this consideration, despite the fact that Polwechsel performs with stopwatches and scores quite conspicuously, the reporters at new music festivals where Polwechsel has given guest performances continually lapsed into the mechanism of viewing the quartet as bizarre debris from the improvisation world, and made corresponding (clueless) comments about the music. The presence of a saxophone or a "prepared table-top guitar" (à la Fred Frith) were apparently enough to signify, beyond a doubt, that this could not possibly be a "serious" new music ensemble.





Peter Niklas Wilson


(translated by Friederike Kulcsar and Chiyoko Szlavnics)


BURKHARD BEINS - percussion and objects

*1964, lives in Berlin

Since the late 1980´s international festivals, concerts and tours with experimental music as a composer/performer throughout Europe and overseas. He is a member of several ensembles like Perlonex, Activity Center, Polwechsel, Trio Sowari, Phosphor, and also works with Keith Rowe, Sven-Åke Johansson, Orm Finnendahl, Charlemagne Palestine, Phil Minton, and many others.
Meanwhile he has released more than 30 CDs and LPs on labels like 2:13 Music, Zarek, Erstwhile, Hat Hut, Potlatch, Absinth or Confront.

" ...simply one of the most imaginative percussionists around, indeed making the tag 'percussionist' seem hopelessly deficient."
- All Music Guide -

"Beins transforms percussions fundamentally into resonators aimed at amplifying the sound produced by a series of different objects. "
- Musiche -

"One of the strengths of Beins' playing is his ear for the strange."
- The Wire –

"Burkhard Beins has proven to be one of those players delivering consistently intriguing releases."
- Signal To Noise -


download pdf english | download pdf german

www.burkhardbeins.de
__________________________________


Martin Brandlmayr

:

born 4.11.1971 in Bad Ischl. Austria

Bands and projects: Radian, Trapist, Kapital band , Polwechsel
Collaborations with Siegrun Appelt, Burkhard Beins, Tony Buck, John Butcher, Peter Brandlmayr, Nicholas Bussmann, Werner Dafeldecker, Dieb 13, Axel Dörner, Christian Fennesz, Franz Hautzinger, Gina Hell, Florian Kmet, Christof Kurzmann, Klaus Lang,Toshimaru Nakamura, Andrea Neumann, Pure, Rashim, Sachiko M, Stefan Schneider, Martin Siewert, Burkhard Stangl, John Tilbury, Void, Joe Williamson, Otomo Yoshihide,.....

Artist in residence 2002 in Podewil, Berlin
Soundinstallation Maag Areal Zurich 2003
honorary mention ars electronica 2002 (for Radian tg11) und 2005 ( for Kapital band 1"2cd")

Festivalappearances:
Transmediale ( Berlin, d) , Domino festival ( Brussels, be), Donaueschinger Musiktage, Konfrontationen Nickelsdorf( Nickelsdorf, aut), Ideal festival ( Gothenburg, swe), Maerz-Musik (Berlin, d), Pukkelpop (Hasselt, nl), Music Unlimeted (Wels, aut), Taktlos (Zuerich/Basel, s ), Kaleidophon (Ulrichsberg, aut), Sonar (Barcelona, esp), Mutek (Montreal, can), Mutek (Mexico city, mex)
Avanto festival (Helsinki, fin), Netmage (Bologna, it), Deaf Festival (Rotterdam, nl)
WSJD festival (Warszawa, pl), Ertz festival ( Bera, esp ), All tomorrows Parties ( Camber sands, gb) Sajeta festival (Ljubljana, slo), Dispatch festival (belgrade , yu ), Offf festival (Valencia, esp) Boreal festival(Bergen, nor), Electronic spring (Madrid, esp), Wiener Festwochen (Vienna, aut) , Ars Electronica (Linz), Gaudeamus muziekweek (Amsterdam), Musikprotokoll/Steirischer Herbst (Graz/Austria), Atlantico 99 (Lisbon), ....

www.mosz.org/brandlmayr.html
__________________________________


werner dafeldecker

1964 vienna

freelance musician, composer and producer. concentrating on improvisation, eletronic music and cross-over projects. a longtime sound research, pure acoustic research, and the creation of a personal sound archive are the basis for his work.
co founder of polwechsel and durian records.

performances, and comissions:
kammermusiktage witten; berliner festspiele märz musik; sound field festival chicago; wien modern; festival hörgänge; musikprotokoll im steirischen herbst; what is music festival australia; international music festival vancouver; international festival victoriaville/canada; lmc festival london; dundee media festival; ultraschall festival berlin; swr freiburg new-music meeting; salzburger festspiele;
sound installations: wien modern, sammlung essl,
music for film: gustav deutsch - film.ist 7-12
work as a producer for durian records and other labels like morr music, hat.hut, mosz. kranky.

worked with:
luc ferrari, john tilbury, otomo yoshihide, sachiko m, john butcher, franz hautzinger, david sylvian, christian fennesz, gene coleman, jim o rourke, tony buck, klangform wien, patrick pulsinger, burkhard stangl, eugene chadbourne, dean roberts, radu malfatti, taku sugimoto, and many others..
_________________________________


MICHAEL MOSER



*1959 in graz, austria .studied cello in graz and vienna,he is intensively engaged with different forms of contemporary music. performances with live-electronics. numerous pieces for cello solo have been composed at his suggestion.

he has collaborated with distinguished artists such as peter ablinger, bernhard lang, isabel mundry, helmut lachenmann, alvin lucier, klaus lang, otomo yoshihide, pauline olivieros,
elliott sharp, nick collins, michael maierhof, phill niblock, tony oxley, zeitkratzer, polwechsel, klangforum wien.

michael moser played at numerous festivals for contemporary and improvised music:

International Actual Music Festival Victoriaville, Canada
musikprotokoll im steirischen herbst
Wien Modern
Wittener Tage für neue Kammermusik
Darmstädter Ferienkurse für Neue Musik
Donaueschinger musiktage
Ulrichsberger Kaleidophon, Ulrichsberg Oö,
Du Maurier international Jazz Festival Vancouver
LMC Festival of experimental music London

---
A

ustralian drummer/percussionist

Will Guthrie

uses home-made instruments, amplified found and junk, microphones & electronics alongside more conventional drums and cymbals. Originally a drummer he has worked in many different settings of music: live performance, improvisation, studio composition.

In Australia and France he organizes concerts and also runs the experimental improvised CD label and mailorder service; ANTBOY MUSIC.

Regular collaborators past and present include Matthew Earle, Adam Sussmann, Ferran Fages, Jean-Philippe Gross, Greg Kingston, Helmut Schaefer, Julien Ottavi, Manu Leduc, Keith Rowe, Jerome Noetinger, Sébastien Coste, Jean-Luc Guionnet, Robbie Avenaim, Erell Latimier, Jim Denley, Ren Walters, Clayton Thomas, Mark Simmonds, Snuff Puppetts ...

Will currently lives in Nantes, France.