Home
Concerts
About
Booking/Contact
Blog
Resources
Media/Documentation
<--back to concert schedule



Monday, November 9, 2009 @ Vox Populi Gallery:


Vox Populi Gallery, 319 N. 11th St. 3rd Floor, Philadelphia, PA, $5-10, 8pm. (map)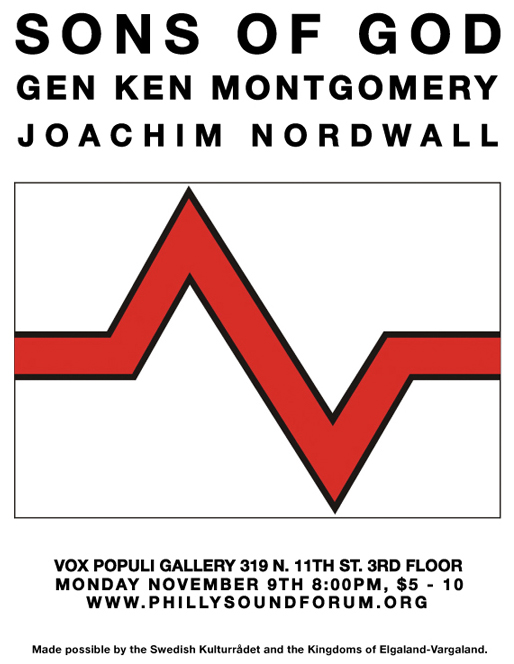 Sons of God


(Sweden)
noise and performance


Egnekn Montgomery


(New York)
Lamination Rituals
Joachim Nordwall
(Sweden, member of Skull Defekts)
electronics


*

preceded by a

panel discussion on KREV

, moderated by

Thomas Bey William Bailey

,
(author of "Micro Bionic: Radical Electronic Music And Sound Art In The 21st Century")



Return appearance from these Swedish faves! If you missed Sons of God last time they were in Philadelphia, or at the No Fun Festival, you may have heard bemused and be-wondered tales of their theatrical, ritualistic movements and scenes, set to bone-rattling noise. And if you did catch them, you know just what kind of miraculous transformations to expect. This time, Leif and Kent will be joined by two prominent citizens of the Royal Kingdoms of Elgaland-Vargaland to present us the rites and rituals of their foreign land, founded by Leif Elggren and CM von Hausswolff in 1992.

"The Kingdoms of Elgaland-Vargaland [KREV] were proclaimed in 1992 and consist of all Border Territories: Geographical, Mental & Digital.

Elgaland-Vargaland is the largest – and most populous realm on Earth, incorporating all boundaries between other nations as well as Digital Territory and other states of existence. Every time you travel somewhere, and every time you enter another form, such as the dream state, you visit Elgaland-Vargaland."

Read the KREV constitution.

For this special diplomatic mission to Philadelphia, KREV founder and King Leif Elggren and Minister of Revelations Kent Tankred will perform a miracle as Sons of God. Rumor has it they may also be joined by Lary 7, KREV Minister of Audiology and pilot of KREVAIR. They will also bring us some of the paraphernalia of their native land to show, possibly including applications for citizenship. Prepare to doff your hats if the national anthem of KREV is played in one of its many versions.

Also appearing is KREV Minister of Lamination Egnekn Montgomery, peforming lamination rituals (see below) in honor of his countrymen.



KREV citizen and

Skull Defekts member Joachim Nordwall opens with a solo set of electronics.



*

The evening will begin with a panel discussion on KREV, hosted by author Thomas Bey William Bailey. He tells us to expect


"an intimate discussion on the past, present, and future of Elgaland-Vargaland: how has the project influenced the individual artworks of its respective citizens, and vice versa? Why is its unique criticism of prevailing power structures becoming more relevant in our 'post-everything' 21st century? What does one stand to gain by joining the Elgaland-Vargaland citizenry? All these questions, and more, will be answered by our panel of experts."



Sons of God
(jump to bio)





http://www.algonet.se/~tankred/gs.html

Gen Ken Montgomery
(jump to bio)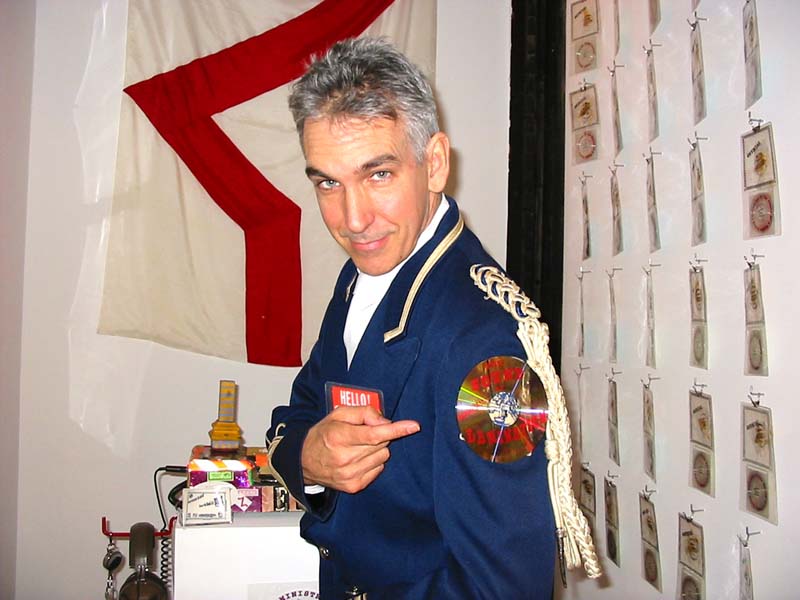 "A Lamination Ritual is a people-participatory activity and sonic listening experience which stimulates the mind and body in-the-moment, while producing an original, tangible, transformed personal object which will last... almost forever.

A lamination station is set up with all the supplies needed. A form is designed specific to the event. Contact microphones attached to the laminator amplify the sound of lamination through loudspeakers facing the user.


The public is invited to engage their imagination to embellish, objectify and officialize the form by adding personal elements and permanently sealing them with the laminator. Enhanced by The Sound of Lamination, the process becomes ritualistic and the artist/laminator takes away a documentation/souvenir of this heightened moment. The Sound of Lamination creates a neurological memory to associate the ritual with the "officialized" document/souvenir."

http://www.ministryoflamination.com/
http://www.generatorsoundart.org/
http://www.atmotw.com/


Joachim Nordwall

(jump to bio
)
http://www.myspace.com/idealistonfire
Thomas Bey William Bailey

(jump to bio
)

http://www.belsona-strategic.com

Biographies:

Guds söner´s (Sons of God) field of activity can be described as an investigation of a mental airspace, undertaken with the aid of unconventional tools. The aural aspect is important, but equal care is devoted to the visual.

Guds söner is often augmented with supplementary performers who then also influence the ideas and their expression.

Guds söner put themselves at the disposal of civil defence and strive to imbue fortitude and courage.



Leif Elggren

(born 1950, Linköping, Sweden), is a Swedish artist who lives and works in Stockholm.

Active since the late 1970s, Leif Elggren has become one of the most constantly surprising conceptual artists to work in the combined worlds of audio and visual. A writer, visual artist, stage performer and composer, he has many albums to his credits, solo and with the Sons of God, on labels such as Ash International, Touch, Radium and his own Firework Edition. His music, often conceived as the soundtrack to a visual installation or experimental stage performance, usually presents carefully selected sound sources over a long stretch of time and can range from mesmerizingly quiet electronics to harsh noise. His wide-ranging and prolific body of art often involves dreams and subtle absurdities, social hierarchies turned upside-down, hidden actions and events taking on the quality of icons.

Together with artist Carl Michael von Hausswolff, he is a founder of the Kingdoms of Elgaland-Vargaland (KREV) where he enjoys the title of King.

Elggren spent five years at the Academy of Fine Arts in Stockholm, specializing in drawing, design and bookprinting. In the late '70s he began to associate with performance groups, meeting people like Hausswolff and Thomas Liljenberg. With the latter he formed Firework in 1978, a duo that put up exhibitions and performances. Around the same time he purchased a press and started to publish art books.

In 1988 he formed the duo Guds Söner (The Sons of God) with Kent Tankred, whom he had met four years earlier. The duo excels in creating long, puzzling stage performances that give equal roles to physical action (or inaction) and soundtrack (live or taped) with themes such as violence, love, the quotidian, food and royalty.

Elggren released his first 7" records in 1982 and 1984 on Hausswolff's label Radium. A first solo LP, Flown Over by an Old King, came out in 1988. The inception of Firework Edition in 1996 allowed Elggren to release more of his music and the growing popularity of installation art in avant-garde music circles (thanks to its ties with experimental electronica) has given his work more international exposure since the late '90s. Other key solo works include Talking to a Dead Queen (1996) and Pluralis Majestatis (2000).

Together with Hausswolff, Elggren represented Sweden in the Nordic Pavilion at the Venice Biennale in 2001 (with Tommi Grönlund and Petteri Nisunen from Finland and Anders Tomren from Norway).

In 2007 he appeared (with John Duncan) at the Netmage festival in Bologna organized by xing and executed "Something Like Seeing in the Dark".

***
Gen Ken Montgomery (b. 1957) is a sound artist living and working in New York since 1978.

Without formal training in music and art, Montgomery has been deeply involved in the experimental music and art scene in New York City and abroad. With roots in Mail Art and cassette culture networking, Montgomery has been involved internationally as a sound artist and as a presenter of sound art.

As an artist Gen Ken Montgomery¹s sound works have been heard on tape, vinyl and CD. He has composed sound for film, video, theater and installations. He has performed solo and collaborated with many other artists. Of special interest has been the creation and presentation of multi-channel sound works performed or exhibited in total darkness. Whether as an artist or as a presenter, Montgomery¹s greatest inspiration has been the creation of spaces for listening.

As a producer, Montgomery was one of the original founders of Generations Unlimited and the Pogus Productions labels of experimental music, and in 1989, founded Generator, the first sound art gallery in New York City. Montgomery has been a guest curator and has assisted other curators for a variety of projects specializing in sound art and experimental music. Presently he co-directs Generator Sound Art Inc., a resource for sound art.

Montgomery has been selected for Artist Residencies at SpritzenHaus in Hamburg, Germany and Harvestworks Studio P.A.S.S. in New York City. He was the recipient of Experimental Television Center¹s Finishing Funds grant in 2001, Media Alliance Sound Art Fellowship in 2000, and The Foundation for Contemporary Performance Arts grant in 1992. He has performed in solo concerts and collaborations at The Whitney Museum, Roulette, Experimental Intermedia Foundation, The Kitchen, and P.S. 122, among others.

***
Joachim Nordwall:
Current member of
The Skull Defekts (w/Henrik Rylander, Jean-Louis Huhta & Daniel Fagerström).
Alvars Orkester (w/ Jan Svensson).
Satan Power
Death Dub (w/BJNilsen).
Oceans of Silver & Blood (w/Mark Wastell)


Performed and recorded with Mark Wastell, Leif Elggren, Audio Laboratory, Frans de Waard, Mika Vainio, Sewer Election, The Sons of God and others, and is leading the iDEAL Organisation since 1998. Ex-member of Kid Commando.

Published by Touch Music.
***



Thomas Bey William Bailey

is a multi-disciplinary artist and cultural researcher, whose work has manifested itself as books, articles, music releases, sound installations, experimental radio shows, and completely undocumented or personal creative actions / interventions. He has lived and worked in Japan, Central Europe, and Chicago, struggling to overcome the psychic fatigue which is unique to our 21st century congestion culture. His work critiques and frames this culture by avoiding the obvious, easily perceptible middle ground and instead focusing on 'micro' and 'macro' aspects of lived experience in an information-saturated epoch. To this end, Bailey's work tends towards either 'atomizing' life (e.g. making recordings of asthmatic breath and incomprehensible sleep-talking, strobing videos limited to only a couple visual elements) or illuminating its hyper-complexity with intense noise, etc. It is a celebration of 'life before death' and a valuation of intimate exploratory nature above mass technological progress. Many of these ideas are further fleshed out in Bailey's first book-length survey of his influences and allies,"Micro Bionic", published 2009 on Creation Books.